REHTEK SERVES THE CUSTOMER WITH THE LATEST IN MACHINING AND INSPECTION TECHNOLOGY
Our Facility is a
SOLAR POWERED
precision machine shop that cares for the environment. Our skilled personnel create parts with keen eye for details and empowered to continuously making process improvements. Everyone is empowered to make improvements. Our People Have A Voice That Speaks For The Customer.
Our clients benefit from the value of technical expertise and extensive knowledge of machining exotic materials.

Utilizing the Latest in Machining Technology and Video Metrology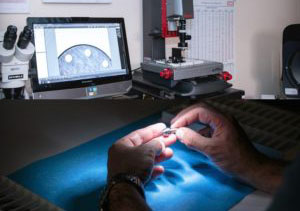 We manufacture precision machine parts ranging from .005″ in diameter to 5.0 ". The Rehtek Facility and Team focus on providing parts that work for each client's unique needs, whether it be machining with a super alloy to withstand harsh environments or for parts with as small as a 0.005″ diameter.
Most of the parts machined at Rehtek Facility range from 0.005″ to 5.0" in diameter, with tolerances of ±0.0002 inch and cross-drilled features starting at 0.008 inch in diameter.
The pressure sensor components are machined from a variety of glass-to-metal sealing alloys, including stainless steel, Kovar, 52 alloy, titanium, Inconel and exotic alloys.
These components have stringent end-user demands on finish, edges and concentricity because they need to function in
extreme environments that are subject to very high pressures, low and high temperatures, and kinetic energy.
Rehtek specializes in precision machined parts including small components for pressure sensors that control and monitor fluids and gasses. Pressure sensor parts include high-voltage contacts, connector pins, electrodes, feed-through assemblies, glass metal headers and a variety of hermetic seal components.
Rehtek — An Experienced and Reliable Machining Resource
For headers, connectors, high voltage contacts, connector pin bodies and feed-thru assemblies. Contact us to discuss your project needs.
UTILIZING THE MOST TECHNICALLY EFFICIENT CAD-CAM, ERP & MACHINING METHODS TO IMPROVE THE MACHINING PROCESS
| | | |
| --- | --- | --- |
| CNC Twin Spindle | Machining Tolerance | Major Diameter |
| DOOSAN 220 LSYC Multi-Task | +/-.0002 | 5.0 |
| Mori-Seki ZL-15 SMC Lathe | /-.0005 | 1.5 |
| Miyano BNC-34S Twin Spindle | +/-.001 | 1.3125 |
| Miyano BNC-34S Twin Spindle | +/-.001 | 1.625 |
| CNC Conventional Turning | Machining Tolerance | Major Diameter |
| Takahashi Gang Tool TNC-LO | +/-.0003 | 1.062 |
| Takahashi Gang Tool TNC-LO | +/-.0003 | 1.062 |
| Ganesh Gang Tool 32 GT | +/-.0002 | 1.062 |
| Moog Gang Tool | +/-.001 | 1.5 |
| Ikegai AX25N Turning Center | +/-.001 | 2.5 |
| CNC Swiss and Multi-Task | Machining Tolerance | Major Diameter |
| Star SR20R CNC Swiss Turning | +/-.0002 | .75 |
| Star SR20RII CNC Swiss | +/-.0002 | .75 |
| Star SB-16 Type D | +/-.0002 | .625 |
| CNC Hybrid Swiss/Conventional | Machining Tolerance | Major Diameter |
| Swistek AB 20MM | +/-.0002 | .75 |
| CNC Milling & Drilling | Machining Tolerance | Major Diameter |
| HAAS VF-2B CNC MILL | +/-.001 | 24 x 15 x 12 |
| Kitamura MySuper 300 Twin Pallet | +/-.001 | 20 x 10 x 12 |
| Kitamura Mycenter1 APC | /-.001 | 15 x 12 x 10 |
| Hitachi Machining Center | +/-.001 | 20 x 12 x 12 |
| Micro Drilling | Machining Tolerance | Major Diameter |
| Servo Micro Drilling | +/-.0003 | .004 to .125 |
| Inspection | Machine Tolerance | Major Diameter |
| Mitutoyo Comparator | +/-.0005 | .001 to 18″ |
| Starret Video Metrology | +/-.0002 | .0002 to 10″ |
| Jones & Lamson Comparator | +/-.0005 | .001 to 18″ |
| CAD/CAM Systems | Compatibility | |
| Solidworks | Solid Models | |
| Gibbs Cam Mill/Turn | Solidworks Iges | |
| Alibre Design CAD with Image Virtualization | Reference Prints | |
| Cimco DNC | CNC Machine Communication | |
| ERP Management System | Quote to Delivery Quality | |
| E2 Systems Shoptech MFG | AS9100 and ISO9001 QMS | |
| Value Added Services | | |
| Glass Bead Blasting | Empire Pro Blast Unit | |
| Heat Treating, Anodizing, LPI, Plating, Hard Coating, NADCAP | | |